Brothers' Milk
Finding beauty in the mundane
September 2019
acrylic airbrush on canvas
---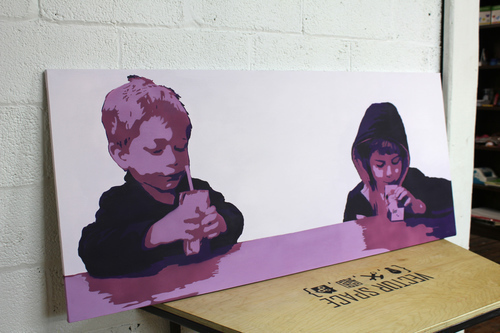 I was looking for an excuse to do some painting, a juried art show popped up in my email, so I made this.
I made the frame from 1x2's and the jigs necessary to make mitered bridle joints, then stretched canvas and gave it a few coats of gesso. The image started as a low quality photo of my two boys drinking chocolate milk at a resteraunt. I broke the photo into four different layers based on light intensity using GIMP, then over many hours traced those images into six different layers that would become the stencils. It couldn't be done in only four layers because there were sometimes islands in the images that would be painted over by the subsequent layer. So for example, I had to paint layer2a, then layer3, then layer2b to get back some of the lost details of layer 2.
The layers were cut into stencils on 3mm plywood using a 130W laser cutter. I then mixed the paints into a color scheme that looked cool and used an airbrush to paint through the stencils. The light pink background was painted last, with everything else being manually masked off using tape.
The piece was not selected for the show, but now it hangs in my family room, reminding me of the beauty to be found in even the most mundane of things.